Tomorrow and Wednesday are my days off and I have PLANS. I am going to take my donations to St. Vinnie's and hopefully pick up a new puzzle. I just got Dancing With The Stars for PS2 so I'm gonna see if it is as lame as its price ($7.99) suggests. Then I'm going to try out DDR SuperNova because I haven't gotten a chance to play it since I bought it at the flea market in July. Then I will do boring laundry. But then I will go grocery shopping which will result in deliciousness!

I guess my plans aren't all that great, but it's still nice to have a couple days off in a row to get things done.
So it seems like all the cleaning and organizing has paid off and the house should be leased for June 2010-11 by the end of today. That means no more strangers walking through my house and judging my owls. The owls do not appreciate being judged.
Current Mood:

optimistic


At least after the pain of testing we decided to treat ourselves to a nice lunch at Mr. Cinder's complete with sodas! It was a nice relaxer.

I got my tires rotated and filled a little.
We applied weather-proofing to 3 out of 18-23 windows (we might not do the 5 in the basement).

Tonight we will be going bowling.


This week I discovered that Roundy's brand egg substitute is pretty bitchin' and waaaay easier than cracking and scrambling the eggs myself. I am just that lazy.

That is all for now. Perhaps I'll post my bowling scores.

UPDATE: Bowling scores are as follows: 124, 74, 165... avg = 121
Not too bad, except that terrible second game.
Today we woke up early and took the practice GRE. The quantitative portion was like a kick in the face after five years of not doing math. Fortunately I hear that when you apply for English programs they pretty much ignore that part...hopefully. Either way we'll know how we did in a week or so. I'm gonna see when I can get a test date for the real GRE for lit, I hear that Oshkosh is like the only place that still does paper testing so I'll be going somewhere else with more than two test dates/year. I guess I haven't really done any research into where or when I can take the test yet.
Current Mood:

accomplished


I'm thinking about growing my hair out...my leg hair...for warmth.

Someone needs to finish my quilt for me. Sara should do it. I can't technically afford batting right now...but two weeks from now I should be good to go. I'm sure I'll get to it in time, but I have a tendency to loose interest in projects unless they have a due date. I've been working on this quilt for about two years. I'm getting better at making myself do things that I don't really want to. I've been paying attention to what I eat, showering more than once a week, exercising, and cleaning/doing laundry. I've been really good about doing my puzzles too.

Gonna make Ben some caramel apple cookies. Because I love him...and I want cookies.

I miss college...classrooms were so warm. I should just go to pit classes in Halsey. No one would notice me and maybe I'd learn something.
I don't know why, but I was still surprised to go from wearing short sleeves to needing a hat and gloves. There is supposed to be an in-between. My fingers are cold.
Current Mood:

cold


I am excited to do some playing, but I kinda want to pick up another Konami pad...not that there's much chance of anyone playing with me, but I do like battle mode and 2 pad mode...though come to think of it, I'm not sure any versions I still have support the second setup...maybe Konamix...doesn't look like SuperNova will. It's been a long time.

Enough about DDR...I took a bite of one of Ben's doughnuts and then put it back in the box.

I finished sewing all the pieces of my quilt together, now I just need to add the padding stuff and the backing and then use some yarn to make the little fringey knots on top and then I'll be done. I think I'll back it with some of those 10 yards of brown and green flowery polyester fabric I bought for no good reason.

Fall makes me accomplish things...the cold and wind and suck. I cleaned the house yesterday and today I intend to vacuum the mess my quilting made. More chilivegiburgers.
Got the DDR pad fixed up and I swear I'm going to use it...I don't really understand how all the duct tape tore and the pad started melting off but it's fixed now. I just got DDR SuperNoca at the flea market, and USA mix, Konamix, and 3rd Mix still work. Extreme and Max seem to be lost causes due to being missing or having been completely destroyed/scratched up.
Current Mood:

excited
I don't care who tells me that big hair and 80s style clothes are back in, I will not do it. This is a ploy to have people dress the fool and have photos taken of them that can be ridiculed ten years from now. What would convince someone to dress in a manner they made fun of so few years ago? Watch out Rebecca or your polka-dot jump suit will be trendy instead of humorous. Be cautious Mother less someone trick you back into your perm. EVERYBODY BETTER BEWARE!
Current Mood:

anxious


Today I am in charge of hanging up laundry, doing dishes, going to work, and one other cleaning duty to be decided at a later time.

UPDATE:
did dishes, went to work
did nothing else...dinner though
Certainly looks like the first week of fall is here. I'd say my chili burgers came at just the right time. And they're better for us than the 23 mini pies Natalie and I made last year... but those were some good pies.
Current Mood:

aggravated


In other news, today I:
recycled computer parts/light bulbs
did laundry
went grocery shopping
made dinner
went thrifting (winter coat, pyrex x 2, puzzle, linens)
tried to turn in cans for $, bees x 100, will go in winter when they are DEAD

So I guess that's something
I'm feeling a little panicky I don't know why. I've had a lot more socialization today than I'm used to.
Current Mood:

anxious


I have both days off.

So far I've done the dishes, two loads of laundry, crushed half my cans, and cleaned the shower.
Considering I've only been cleaning for an hour and a half I think I'll end up with some free time this weekend.

I could read or something I guess. Weekend TV is really bad....but I want and xpress redi set go. they're bitchin'.

I guess the house can always get cleaner.

Still to do:
Laundry #3
Handwash
Counters
sweep/mop>Ben did this one
livingroom/dining room/front hall
vacuum
sweep stairs>and this one
clean room
vacuum hall
change in cans
clean sewing room

Actually, I expect cleaning my sewing room to take the rest of the weekend. and if it doesn't I have at least two projects started in it that I should finish.

Why is it that all of my LJ posts are lists?
Ben is gone at a wedding for the weekend and Monica is in Madison/Chicago.
Current Mood:

accomplished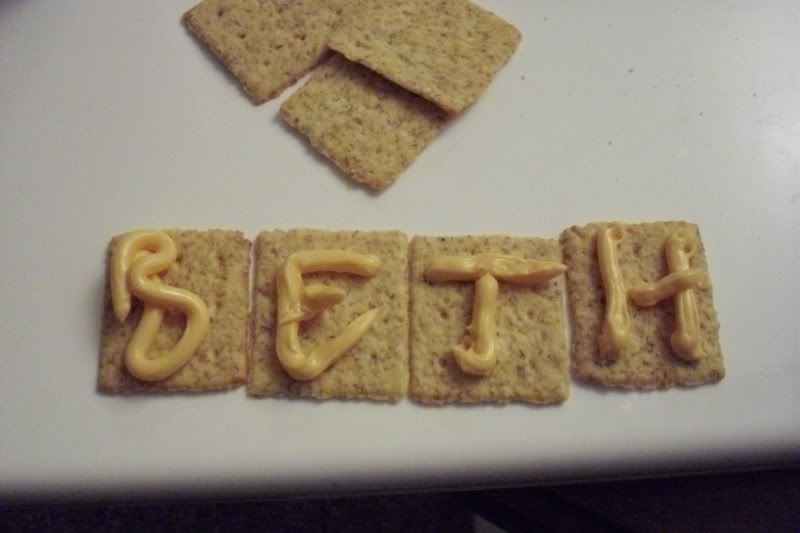 But for serious...Here's my ladder golf set. All fresh and new.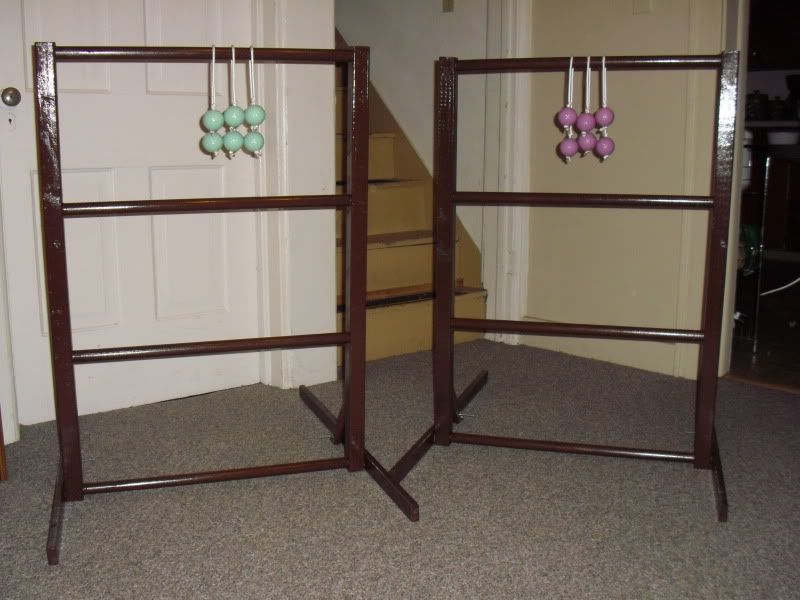 Got my new digital camera...and spray cheese. A stunning combination.
Current Mood:

accomplished

I'm thinking of making a third set of ball things just in case, but the most difficult part of the entire building process was getting the rope through the holes in the golf balls.

Overall I spent about $25 on supplies and used another $10 or $15 dollars of stuff I had around the house. Perhaps I will post a photo once my new camera arrives on Friday. By far the most expensive pieces were the dowel rods I used for the bars. There were four of them at something like $3.25 each.

Today I also made spaghetti with spicy rice balls. It seems that every time I make something "spicy" or with a "kick" that I'm disappointed by other people's definition of hot...I mean really, they weren't even medium. Still good though.

I put together a three section hamper.

Washed two giant piles of dishes.

Took a spider outside.

Listened to more than an hour of The Hitchhiker's Guide to the Galaxy.

Vacuumed up the sawdust on the carpet.
Today I finished my ladder golf set.
Current Mood:

Done